Swim Lessons
East Valley will offer FREE swim lessons this summer. Application-English and Application-Spanish
Spring 2015 Final Exam Schedule
Monday June 1
Tuesday June 2
Wednesday June 3
1
5
B
2
6
7
Lunch
Lunch
Lunch
3
4
8
 
8:00 – 9:20
9:25 – 10:45
10:45 – 11:10
11:15 – 12:35
Thursday June 4
B
Assembly TBD (Auditorium)
Lunch
3
Assembly PACE (Gym)
8:00 – 8:30
8:30 – 10:00
10:00 – 10:45
10:50 – 11:20
11:20 – 12:35
East Valley Baseball Makes CIF Playoffs!
CIFLACS Baseball Playoffs Division III
Please Support the Christian Guzman Memorial Scholarship Fund!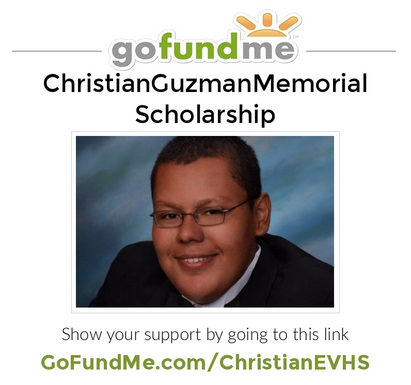 Boys Volleyball in the CIF LA Division III Playoffs!
CIFLACS Boys Volleyball Playoffs Division III
CAHSEE TESTING
English Language Arts
Tuesday, March 17, 2015
B Period8:00 – 8:50 a.m. (50 minutes)
CAHSEE Testing 
ELA Part I  8:00 a.m. – 10:30 a.m. (2 hrs 30 min)
Break (In class)10:30 a.m. – 10:35 a.m.
ELA Part II10:35 a.m. – 12:35 p.m. (2 hrs)
Period 1  8:55 a.m. – 10:42 a.m. (107 minutes)
Period 2 10:47 a.m. – 12:35 a.m. (108 minutes)
Lunch12:35 p.m. – 1:10 p.m. (35 minutes)
Period 31:15 p.m. – 2:17 p.m. (62 minutes
Period 4 2:22 p.m. – 3:25 p.m.  (63 minutes
Mathematics
Wednesday, March 18, 2015
B Period 8:00 – 8:50 a.m. (50 minutes)
CAHSEE Testing 
Math Part I 8:00 a.m. – 10:00 a.m. (2 hrs)
Break (In class)10:00 a.m. – 10:05 a.m.
Math Part II10:05 a.m. – 12:05 p.m. (2 hrs)
Period 5  8:55 a.m. – 10:28 a.m. (93 minutes)
Period 610:33 a.m. – 12:05 p.m. (92 minutes)
Lunch12:05 p.m. – 12:40 p.m. (35 minutes)
Period 7 12:45 p.m. –   2:02 p.m. (77 minutes)
Period 8  2:07 p.m.  –  3:25 p.m.  (78 minutes)
Spring Spirit Week!

Congratulation to our B
oys and Girls Basketball, and our Boys Soccer teams on making it to the CIF Playoffs!!!
Results available on MaxPreps here.
Next up — Boys Soccer
Second Round of CIF playoffs Division IV. 
East Valley v Collins Family
at Marquez High School 
March 3, 2015 at 7pm
6361 Cottage St
Huntington Park, CA 90255
CIFLACS Boys Soccer Playoffs Boys Division IV
Our Smarter Balanced Assessment (SBAC) schedule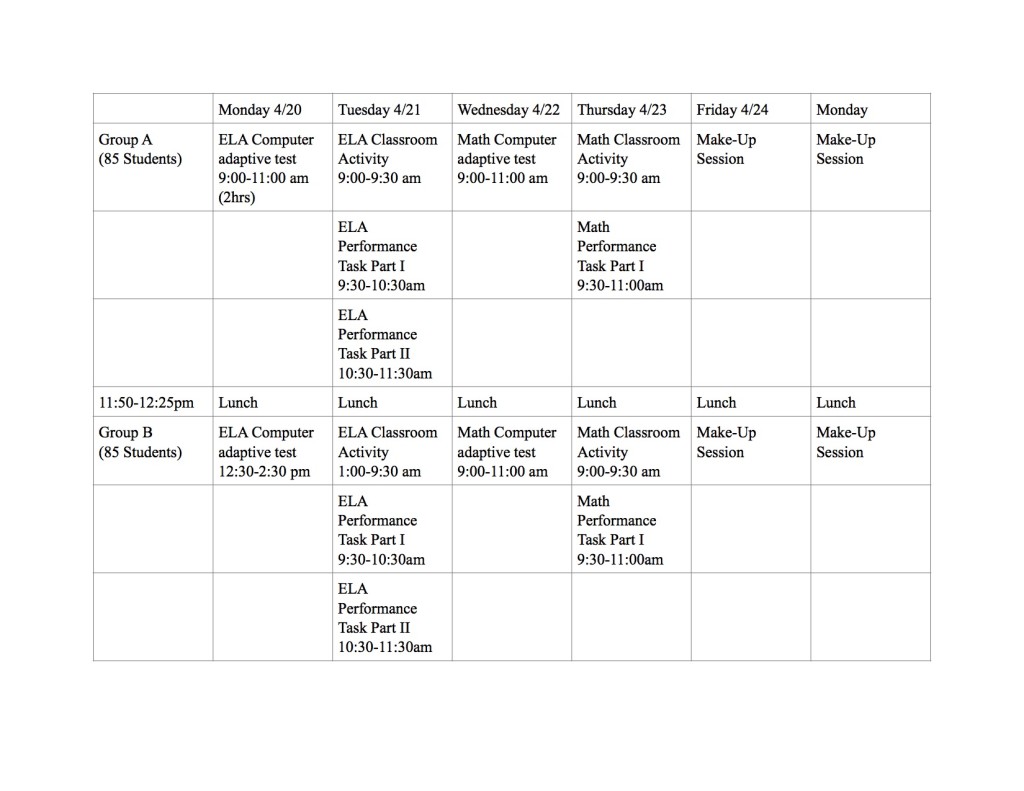 Academic Decathalon Success!!

Congratulations to our East Valley Academic Decathalon Team who was so successful in this year's competition! Ms. Goehring and all of our faculty would like to congratulate the following students:
**Tho Mac who scored 800 out of 1000 in mathematics and received an honorable mention district-wide.
**Diana Blanco who recieved a bronze medal in speech and was our team's top scorer.
And other competing members:
Analuisa Alonzo
Jannely Castro
Jantip Taengirsilak
Tommy Swans
Jocelyn Sosa
Fitness Center Ribbon Cutting!
Please join us on Friday, March 6 at 10am for the Ribbon Cutting of our brand new Fitness Center supported by a grant received by Ms. Stewart & Mr. Medrano  from "Sound Body, Sound Mind." Details below.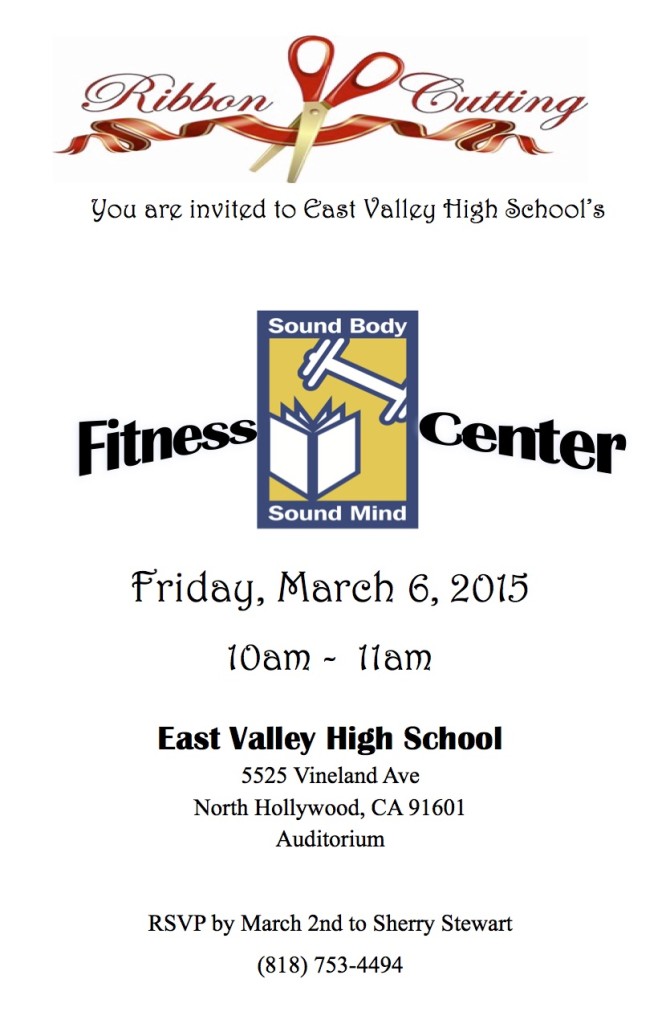 Congratulations to Ms. Brooks – our very own LA United Way 2015 Inspirational Teacher!
Read below for their explanation Ms. Brooks is one of the 2015 Los Angeles Inspirational Teachers of the Year!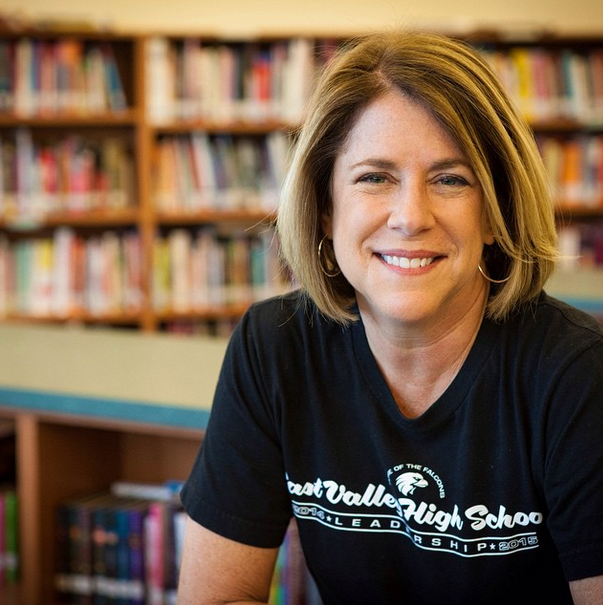 Dana Carli Brooks is a National Board Certified teacher of history at East Valley High School where she also is Leadership Advisor. Dana graduated with a law degree in 1983 and left her law practice in 2006 to become a founding faculty member at East Valley High School where she teaches 10th grade World History and 12th grade Government. Dana works in partnership with the UCLA Center X History-Geography project to improve history-social studies instruction. Her goal is to provide rigorous educational opportunities as she believes a quality education is the best route for her students to improve not only their lives, but the lives of their families and their communities.

A colleague had this to say about Dana: "Students in her course continue to increase the passage rate on both AP World History and AP Government. She has created a classroom community where students feel heard and valued. She continues to listen to feedback from peers and challenge the status quo. As a school leader, she has designed and implemented a rigorous professional development program with the support of her peers. She is sure to involve parents by keeping lines of communication open." @LAUnitedWay is proud to honor Dana Carli Brooks as a 2015 Inspirational Teacher. #TeachersWhoInspire2015 
Upcoming Parent Meetings
School Site Council will be on Tuesday, February 10th, 2015, at 4pm in the parent center.
English Learners Advisor Council will be on Wednesday, February 25th, 2015, at 5pm in the parent center.
Moot Court Success!
Please join us in congratulating Ms. Brook's Government classes on their successful Moot Court proceedings at the end of last semester. The class engaged in a full court simulation.
Holiday Food Drive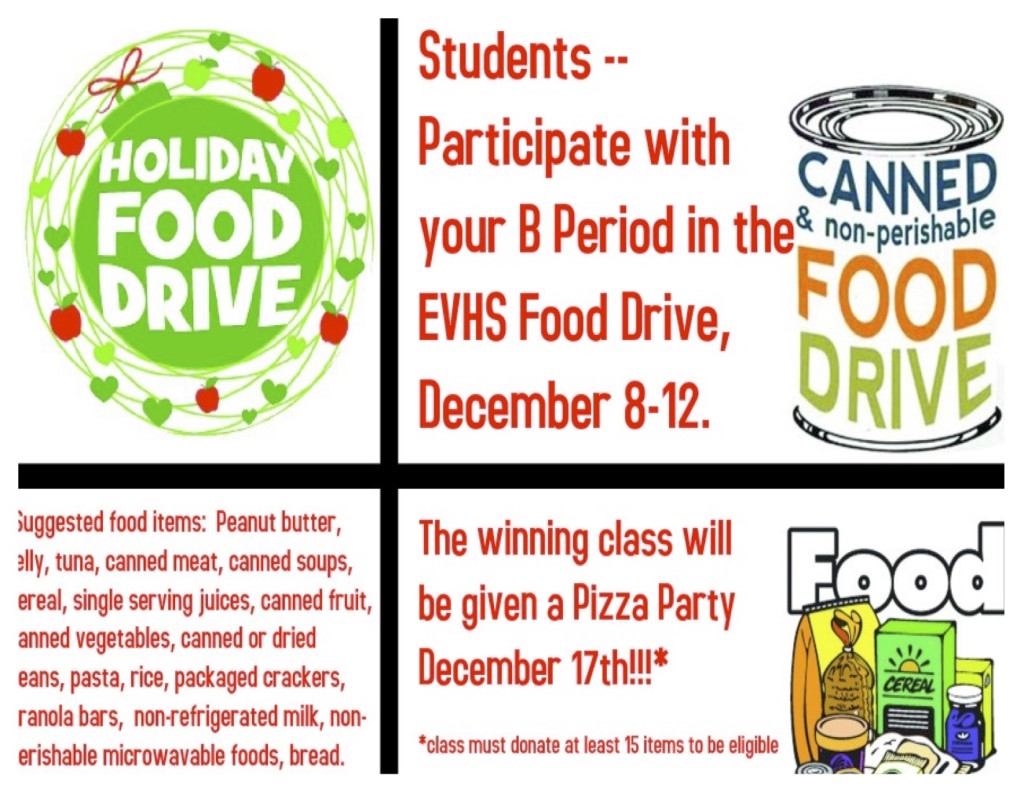 Superintendent's Message
"As the news continues to evolve around Ebola, all schools and families in the Los Angeles Unified School District should be reassured first that, to date, there are NO suspected or confirmed cases of Ebola in Los Angeles County. Ebola is not easily spread and even less likely to spread on a school campus… "
Please see the rest of the Superintendent's Message online here, in Spanish, and in English.
LEA Parent Involvement Policy
The LEA Parent Involvement Policy was mailed home on October 30, 2014. Dear parents and guardians please check your mail to make sure you have received it. The document is also attached here  in Spanish, and in English.
Ms. Reveles is a Life Changer Nominee!
Please join us in congratulating Ms. Reveles, Parent Center Coordinator, for her nomination as a Life Changer. This program recognizes individuals at schools around the country who have made a serious difference in the lives of students, their families, and the entire school community. Please visit Ms. Reveles nomination page (click here) and leave a note explaining how she has touched your life. The top 10 nominees nationally have a chance at $10,000 cash prize!
Think Pink Breast Cancer Awareness Action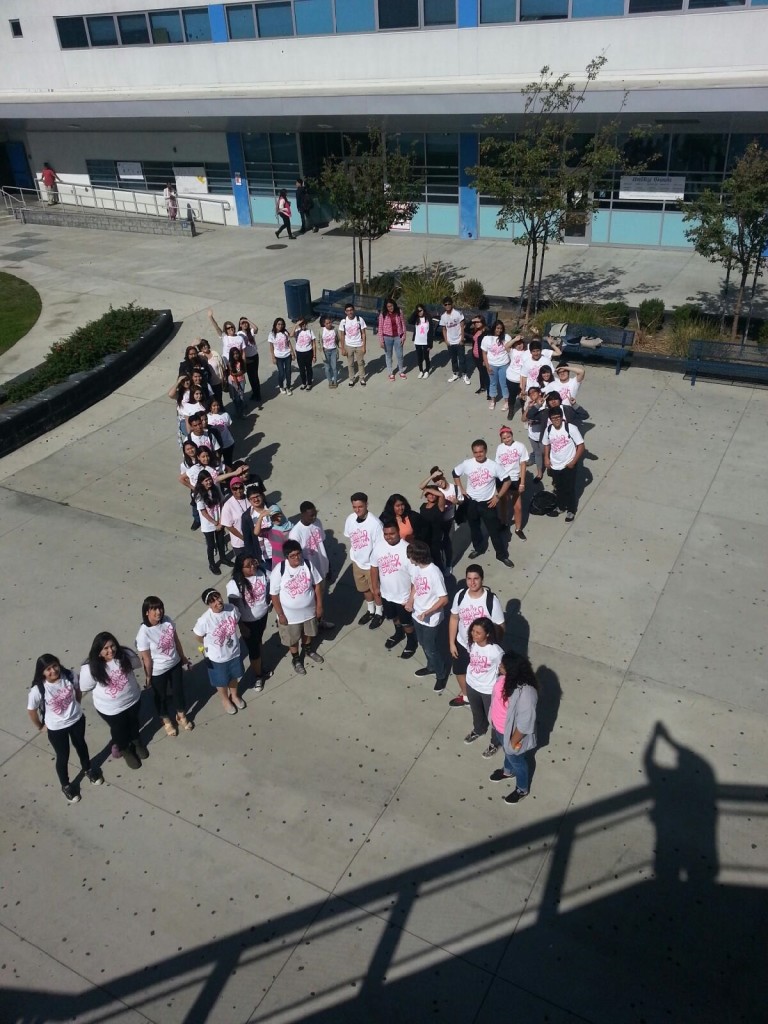 Homecoming Week Information
 
See our students perform scenes from Othello!
More examples here
---
Ms. Gullo at the LA County Teacher of the Year Celebration!
We are very proud of our English Department Chair, Ms. Kathryn Gullo. She represented East Valley & LAUSD at the Los Angles County Teacher of the Year Celebration in September.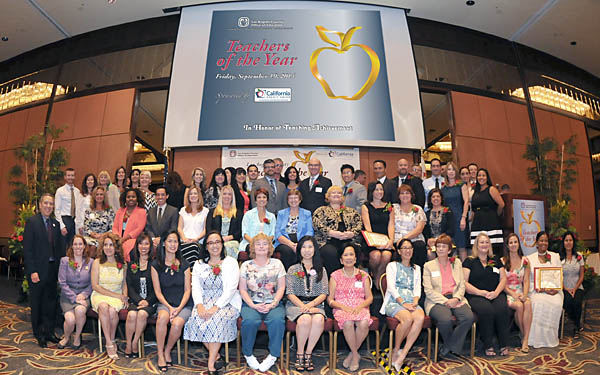 ---
College Fest 2014 @LA Valley College – Saturday, September 27, 2014 – 9am to 12pm
Teachers can now sign up for computer labs online here!
Sticker Night at EVHS Football on Friday! 
The first 100 fans who attend our football game against Villanova on Friday, September 12 at 7pm will receive an East Valley High School sticker!
School Accountability Report Card for East Valley now available.
2013-2014 School Year Highlights
Ivan Diaz, was chosen to be the Los Angeles Unified School District Student of the Day, May 20, 2014. His story is highlighted on the LAUSD Facebook Page.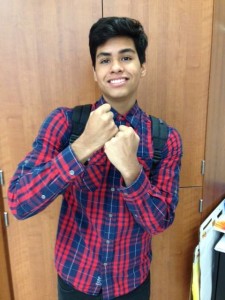 Sophomore Jannelly Castro qualified through LA City Speech and Debate competitions and has advanced to participate in the State level Competition in Sacramento.
Senior Axel Franco placed 2nd in Performance Art at the Paramount Studios Competition; Spotlight on Success.
Congratulations to Mr. Whetter, our ASL teacher, for being chosen to CSUN's Outstanding Student Teacher this year! Ms. Meyer was his Cooperating Teacher and is to be congratulated as well. We're proud of both of you!
We are proud that one of our teachers, Ms. Kathryn Gullo, has been selected as an LAUSD "Teacher of the Year". She will represent LAUSD and East Valley High in the county competition!